It's the end of the school year, and I bet somewhere in your home there is a corner overflowing with your children's schoolwork and artwork. Now is the perfect time to deal with it. But how? Once you have sorted through it to decide what you want to keep, here are some great solutions for storing it all:
Schoolfolio, $84.95
This is my favorite method for storing artwork/schoolwork. Get one per child and sort their best pieces into one of the labeled folders. The folders all fit snugly inside the heavy-duty, archival-quality polyethelene box. It measures 25″ x 19″ x 11," so it will hold those oversize paintings. Yes, it is kind of expensive, but it is built to last. Consider it an investment.
Photobook from My Publisher, about $50-100
What do you do if your child has a shelf of sculptures and other 3-D art projects to go with the paintings and drawings? Take a photo of the sculptures and make a photo album. With a photo book, you can scan in your children's art, take photos of the rest, throw in some images of your children during the school year and create a wonderful keepsake that takes up next to no room in your house. I use My Publisher to create my family's albums, because I love how easy (and free!) their software is, and I am continually impressed by the quality of the albums they produce.
Wide, Underbed Drawer @ The Container Store, $24.99

This 27″ x 23″ x 6.5″ plastic drawer fits under a bed and is perfect for holding a great deal of artwork. Get one per child and be sure to label the drawer with the child's name and the year-range of the artwork it holds.
Portfolios from Dickblick.com, $18.69-28.99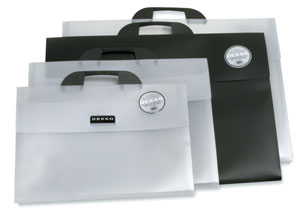 These portfolios can easily slide behind a dresser or under a bed, and you can't beat the price. Be sure to label them with the child's name and the date range of the artwork it holds as you fill them up.
Other Ideas
Display the artwork: I've blogged about several ways to display children's artwork. You could create a collage, hang it on an art line, or "frame" it in an ever-changing display.
Use the artwork: You could cut it up and glue it on to cardstock to create custom greeting cards, mail favorites to beloved relatives, and of course, the old stand-by — use it as giftwrap.