In January, all of the big box stores put their organizing and storage-related products on sale. It can be a great time to buy, but it can be overwhelming  to figure out what is best for your space.
Today, I will explain some basic shelving options to you and tell you how to use each type and which ones to avoid altogether:
These 5 shelf Sterilite plastic shelves (on sale for $39.99 at Fred Meyer) are a great price. They are also at the top of my AVOID list. Reasons?
Because they are plastic, they will bow in the middle over time if you put anything heavy on them, such as books, boxes of photos or boxes of papers.
Plastic shelves will become brittle and eventually break over the years, expecially if they are kept in a hot room or exposed to any sunlight (such as in the garage).
They are flimsy. If for whatever reason you put heavy things only on the top shelf and light things on the bottom shelves, they could topple over on you. That's dangerous!
The shelves are not easily adjusted.
They look ugly.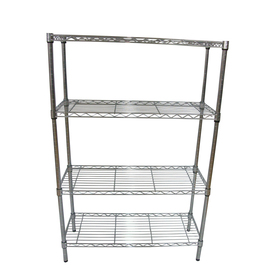 These steel tube shelves (sometimes called Baker's Shelves) are a better value, even if they cost a bit more (on sale for $49.98 at Lowe's):
They can hold 350 pounds per shelf.
Shelves will not bow over time or become brittle or break.
They are less prone to tipping than the plastic ones.
They are somewhat adjustable, although adjusting them is very difficult once they are set up.
They look better.
But they are not ideal for holding small things (which will slip through the bars) or soft, fabric things (which will become distorted by the bars on the shelves).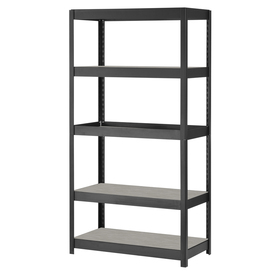 These 5-tier steel and particle board shelving units are your best bet for your garage or semi-finished basement. (Currently on sale for $69 at Lowe's.)
They are extremely sturdy and can hold 1,000 pounds per shelf. This means they can hold almost anything in your garage.
The shelves will not bow or break.
The steel frame makes it hard to tip. However, you should still secure it to the wall if you have little kids at home or live in an earthquake zone.
Shelves are fairly easy to adjust.
They look quite professional when multiple ones are lined up along a wall in a garage or basement.
Remember to always sort through everything in your space first so you know exactly how much shelving you will need.
Like this post? Get daily organizing tips and keep up with my crazy life as an organizer at Facebook, Twitter and Pinterest.