My son believes that all of his stuffed animals are alive and secretly play at night when he is at sleep or during the day while he is at school. I chalk it all up to one too many screenings of Toy Story. The downside of this is that we are not allowed to get rid of any of the animals, because that would be akin to giving away a member of the family. So the pile of stuffed animals grows, along with the accompanying dust bunnies.
As an organizer, I've been in many other homes where the children also had huge, suffocating piles of stuffed animals. The parents plead with me to find SOME WAY to deal with all of them (the stuffed animals, not the children). So here are some options for of those of you drowning in plush and fluff:
1. Stuffed Animal Tree from Amazon ($27.99). Hang them from the elastic bands off of this 5-foot tall metal structure. I love how it takes advantage of vertical space. But will it tip over if your child puts all of her stuffed animals on one side, which might happen if you have the pole standing in the corner?
2. Boon Trio Animal Bags from Amazon ($69.99) Here's from their website: "The Animal Bag is an oversized, plush bag covered with large, zippered windows made out of transparent, durable mesh. Children can fill the bag with stuffed animals of all sizes, then use the Animal Bag as a soft seat." Might I add that they mention the bags are breathable. So your stuffed animals don't die of suffocation (Nathan would appreciate that). Takes up a lot of floor space, but it would work well to keep them all in one spot.
3. The Original Chain Gang Toy Organizer from Amazon ($12.95). You have probably seen this device before. Again, it takes use of typically under-used vertical space in your child's room. Plus you can't beat that price. Probably the most cost-effective, space-effective solution.
4. 6-Tier Hanging Mesh Storage Closet Organizer from Amazon ($5.99). This too takes advantage of vertical space, but it has the added advantage of being easier for little kids to use. Kids can simply stuff animals in the pockets instead of trying to fumble with clipping them on a chain or looping them through an elastic band (something a toddler will be unable to do.)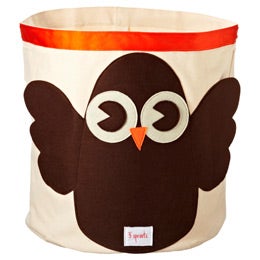 5. Owl Canvas Bin from The Container Store ($31.99). This 17-inch diameter bin is made out of canvas and would look absolutely adorable in a child's room. Choose from an owl, raccoon, pink elephant or yellow monkey. Guaranteed to hold a couple of armloads of stuffed animals while looking quite stylish.
6. Stuffed Animal Couch at Harrod's. I'm saving the best for last here. I can't actually find this item online anymore so I can't tell you how much it cost, but don't you think you could whip that sucker up yourself with an old garage sale couch and a hot glue gun? If you make this, PLEASE send me a photo!
I'm thinking I might get the Chain Gang Toy Organizer for Nathan's room. What about you? Have you seen any other ways to organize stuffed animals? Or have you found a fun and unique way to organize your kids' menagerie? Let us know in the comments below.