A disorganized clothes closet can make every morning a headache as you try to figure out what to wear, let alone FIND that certain garment you had in mind. An organized clothes closet makes getting dressed feel like a daily step into a high-end boutique. But how do you get to that boutique-y feeling? Here are some tips plus inexpensive products that I GUARANTEE will make your closet feel more Hollywood, less Goodwill-bulk-discount bin-ish.
1. Group your clothes in your closet by type. This means you hang all of the short-sleeve blouses together, all of the long-sleeve blouses next to those, all of the slacks together, all of the skirts next to those. You get the idea. Think of how a boutique groups its clothes together on a rack, and aim for that look.
2. Once you have done that, group each garment within each category by color. Yes, I know this starts to feel a bit anal, but trust me, it will look fabulous when it's done. Plus, when things are grouped together by color, you can quickly see that you have 12 black pairs of slacks. Maybe you don't need 12 black pairs of slacks and now you know you can donate at least half of those and still have enough to meet your needs. Sorting through your clothes becomes INFINITELY easier when things are grouped together by category and then by color.
3. Next, get rid of all of those wire hangers (are you hearing Joan Crawford scream in your ear yet?), mismatched plastic ones, and freebie plastic ones from the store. I'm not saying you have to go out and buy all wooden hangers (too expensive!) Plastic tube hangers are fine so long as they are all the same. Swapping out hangers is a small, easy change to make, but it makes a huge difference.
4. Don't hang up your sweaters. I see so many clients do this, and it's so bad for their sweaters! Instead, fold them up nicely (the way they looked when you bought them in the store) and put them on a shelf. And (you probably know I'm going to say this) group them together by color so all of the black sweaters are on one shelf, all of the brown sweaters are on another shelf … Don't stack your sweaters more than 4 high. Otherwise, they will topple over when you reach for the one on the bottom. If you need to stack your sweaters higher than that, buy a shelf riser for the rest of the sweaters.
5. You might need a few specialty items to restore order in your closet: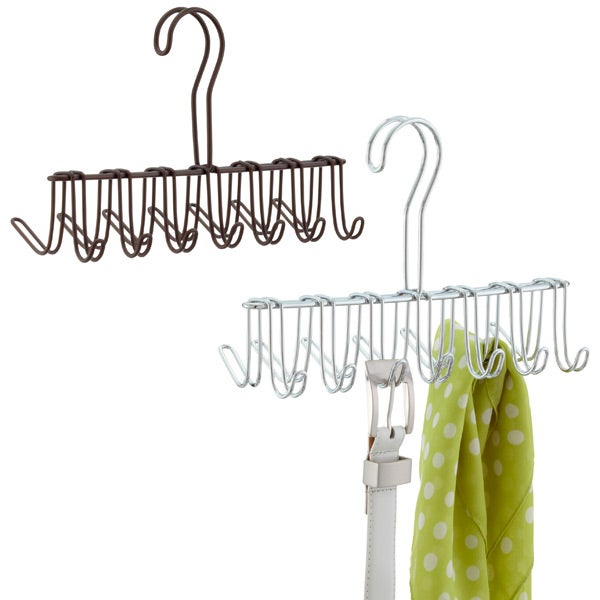 Belt hanger. $6.99 @ The Container Store
Scarf hanger. $9.99 @ Beth, Bath, Beyond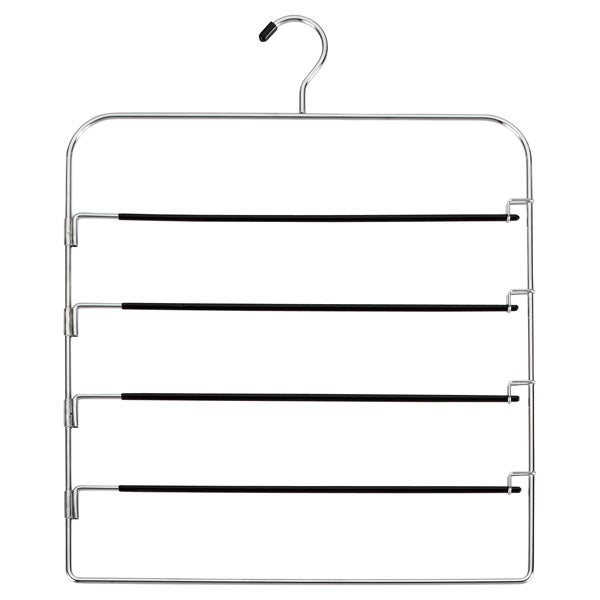 Slacks hanger: $8.99 @ The Container Store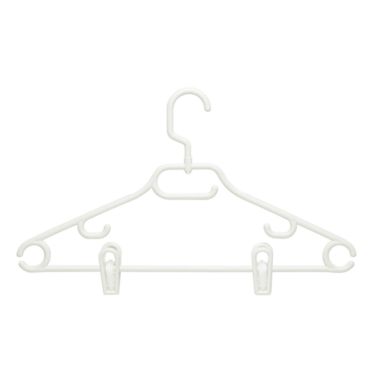 Skirt hangers: 3-pack for $3.99 @ Bed, Bath, Beyond
Heavy duty hangers for coats and suits (because those plastic tube hangers are just going to bust when you hang your wool coats on them): $9.99 @ The Container Store
Cap organizer: $4.99 @ The Container Store
Vertical over-the-door pocket organizer for sorting gloves, mittens, scarves, etc. $14.99 @ The Container Store
6. Finally, if your closet is feeling a bit full, try this trick. Put all of your clothes on hangers backwards on the rod. As you take something off the hanger, wear it, wash it and put it back on the hanger, hang the hanger the RIGHT way on the rod. At the end of the year, all the clothes that are still hanging backwards on the rod are clothes that you aren't wearing. And you know what that means: NAKED LADY PARTY!
What are some of your favorite clothes closet organizing tips?