Why do some people choose to organize their books by color? I literally cannot think of a more inefficient way to organize books. Oh wait, yes I can. You could organize the books backwards on the shelves. Quick! Find your copy of Moby Dick in less than 2 minutes!:
Completely covering the book in kraft paper so you can't even read the title also makes it nearly impossible to retrieve the book you are looking for. Plus, it would take a seriously long time to make that many book jackets!
Other bad ways to organize books include this method below. Can you tell what image the books create?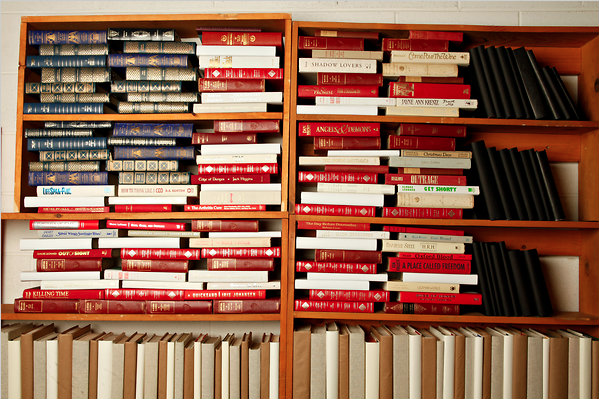 I'm not sure what to make of this one, below:
All these images make for interesting book shelves, but the books end up being treated as decor. And when arranged as decor, it becomes very difficult to find the one you are looking for or to browse. In short, the books become nearly impossible to use as the indispensable tools and beloved pastime that they are. If you hate the look of your books so much, then I say either get rid of them or store them behind cupboard doors. Let's not judge books by their cover to the extent that they become just decorative clutter in our home.
But that's just my opinion. What do you think of arranging books this way? Would you ever do this in your home?